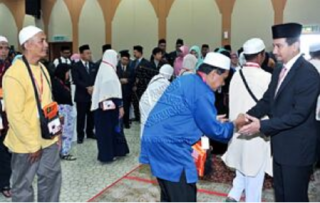 (picture from Bernama)
HM Tuanku Mizan Zainal Abidin consent to shakes hand and say farewell at the farewell ceremony held at Kompleks Tabung Haji

His Majesty the Yang di-Pertuan Agong (Supreme Ruler) of Malaysia, Tuanku Mizan Zainal Abidin consent to attend the farewell ceremony of Malaysian pilgrims before their departure to the holy land of Makkah al-Mukkaramah. The pilgrims comprising 206 men and 241 women on flight 36 are expected to arrive in Medina at 6.50pm (11.50pm Malaysian time). In the ceremony, Tuanku Mizan Zainal Abidin has urged haj pilgrims to safeguard Malaysia's good image when in the holy land.
He also reminded them to abide the directive of local authorities and regulations of Tabung Haji (TH) to ensure their safety and facilitate the pilgrimage process. Tuanku Mizan also urged pilgrims to take care of their personal hygiene as the surrounding may cause diseases and affect health.
For this year, Tabung Haji has selected 28,000 to perform the hajj in the holy land this year where 38% have departed for Madinah. Minister in the Prime Minister's Department Datuk Seri Jamil Khir Baharom said TH has appointed 800 staff to serve pilgrims in Mecca, Medina, Arafat and Jeddah.