(picture from Bernama)
His Royal Highness Sultan Abd Halim of Kedah and His Royal Highness Sultan Muhammad V of Kelantan

His Royal Highness the Sultan of Kelantan, Sultan Muhammad V chaired the 225th Conference of Ruler Meeting held at Istana Negara, Kuala Lumpur. The meeting today was attended by all Malay rulers except for Terengganu who was represented by the Tengku Seri Bendahara, Raja Tengku Mustaffa Kamel, and Pahang by the Tengku Mahkota, Tengku Abdullah Sultan Ahmad Shah.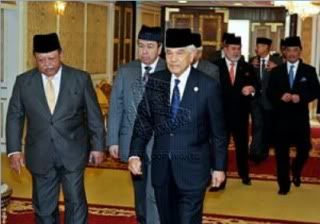 (picture from Bernama)
The Malay Rulers. Starting from left, Tuanku Syed Sirajuddin of Perlis, Sultan Sharafuddin Idris Shah of Selangor, Sultan Azlan Shah of Perak, Sultan Ibrahim of Johor and Crown Prince Abdullah of Pahang

Their Royal Highnesses were accompanied by the respective states' menteri besar. The Yang Dipertua Negeri of Penang, Yang Dipertua Negeri of Sabah and Yang Dipertua Negeri of Melaka were accompanied by the respective chief ministers, except for Sarawak who was not present at the meeting.