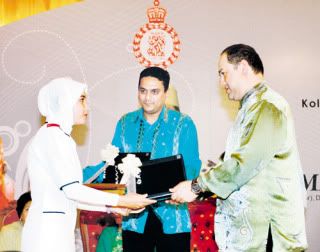 (picture from Utusan)
HRH Sultan Muhammad V delivered a laptop to one of the student of Masterskill college witnessed by Edmund Santhara

His Royal Highness the Sultan of Kelantan, Sultan Muhammad V consent to officiate the inauguration ceremony of Masterskill Campus Metro located at Lembah Sireh, Kota Bharu. In the ceremony, the Sultan Muhammad V delivered 180 laptops to the college students. Also attended the ceremony were the Chairman of Masterskill Education Group Berhad (MEGB) Board of Directors, Datuk Seri Tunku Kamel bin Tunku Rijaludin and the Chancellor of Masterskill University College of Health, Datuk Seri Raja Azureen binti Sultan Azlan Shah.
The cost of Masterskill Campus Metro Kota Bharu is about RM50 million and can accommodate an estimate number of 5,000 students. The college provides conducive education facilities and a library equipped with electronic latest publishing materials related to medical, nursing and health sciences.