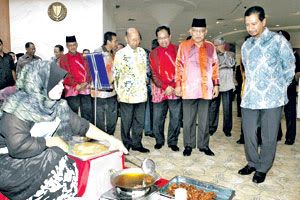 (picture from Utusan)
HM Tuanku Mizan Zainal Abidin accompanied by HRH Sultan Abd Halim Muadzam Shah witness the demonstration of Kuih Peneram making at the Paddy Museum, Alor Setar, Kedah
HM the Yang di-Pertuan Agong (The Supreme Ruler) of Malaysia, Tuanku Mizan Zainal Abidin gave his consent to visit the paddy museum which portraits the history of the State's Paddy planting history until it is known as the Rice Bowl of Malaysia. His Majesty started his visits at the second floor and witness several demonstration of hand-made paper, dripping of rice powder (bedak sejuk) and ceramic making. In addition to that, the demonstration also include several rice-based traditional delicacy making such as emping kerabu, kuih karas, kuih peneram, emping nyiur dan putu beras. His Majesty spends almost two hours in the museum.
The arrival of HM Tuanku Mizan Zainal Abidin was greeted by HRH the Sultan of Kedah, Sultan Abd Halim Muadzam Shah accompanied by the Menteri Besar (Chief Minister) of Kedah, Datuk Seri Azizan Abd Razak followed by the State's Exco.
HM the Raja Permaisuri Agong (the Supreme Queen) of Malaysia, Tuanku Nur Zahirah accompanied by HRH the Sultanah of Kedah, Sultanah Haminah have a different programmed. The Queen and the Sultanah are travelling along the Merbok River and visiting the Forestry Museum located at Jerai Mountain, the highest peak in the State of Kedah Darul Aman.