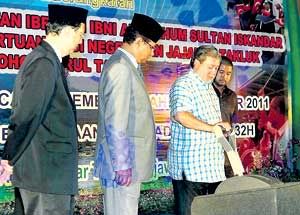 (picture from Utusan)
HRH Sultan Ibrahim of Johor officiate the opening ceremony of Kembara Mahkota Johor 2011 witnessed by HRH Tunku Ismail Idris, the Crown Prince of Johor and Datuk Seri Abd Ghani Othman

HRH the Sultan of Johor, Sultan Ibrahim ibni Almarhum Sultan Iskandar gave his consent to officiate the Pre-Launching Ceremony of the 14th Session of Kembara Mahkota Johor (Johor Royal Entourage). This year session will seen the KMJ shall using the Motorcycles, 4-Wheel Drives and Boats. The annual event shall be held from 18 to 21st June 2011. The theme for this year is "Environmental Care is our responsibility". The 4 days entourage shall started at Jetty of Tanjung Palace and will end at Bangunan Sultan Abu Bakar, both are in Muar District. The entourage shall tour all the 10 Districts of Johor and for the first time handle by the Johor's State Secretary Department.
Accompanied the Sultan is HRH the Crown Prince of Johor, Tunku Ismail Idris ibni Sultan Ibrahim. Also presences in the ceremony are the Menteri Besar (Chief Minister) of Johor, Datuk Abd Ghani Othman and Johor Tourism Exco, Hoo Seong Chang.