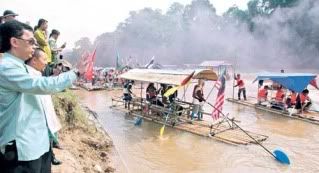 (picture from Utusan)
The Tengku Mahkota of Pahang, Tengku Abdullah ibni Sultan Ahmad Shah waving at the rafting adventure participants after their departure at Kuala Lipis Jetty.
HRH the Tengku Mahkota (Crown Prince) of Pahang, Tengku Abdullah ibni Sultan Ahmad Shah gave his consent to start the rafting adventure competitors consist of 38 groups at Kuala Lipis Jetty. Almost 300 participants compete in the rafting adventure until this 14th May. The rafting groups will stop at several checkpoints before finishing the route at Kampung Kuala Triang, Bera. There will be also several events and activities held during the rafting adventure including Tradition Sports, Top Tournament, Village Feast and Local Arts. It is hoped that the program shall increase the economic activities as the participants consist not only local but foreigners as well. The program shall be held for three consecutive years until 2014.
Also attend the ceremony is the Deputy Minister of Information, Communication and Culture, Datuk Maglin Dennis D'Cruz.