Assalamualaikum and Peace be upon all of you.
Welcome to my blog.
Good morning everyone. Today is just another beautiful day, in a brand new week, and a brand new month (
what?? November already??
). And as usual, more and more works has finally piling up, well~~ we need to solve the problem, not run away from it.
Ma~Ma~ Mabushi~~~
Haha.. it is my favourite phrase in the new drama series I watch recently.
Yamato Nadeshiko Shichi Henge
or in English,
Perfect Lady transformation
. A series adapted from Anime and Manga. We should note how the manga and anime industries in Japan currently shape its nation. Well, compare to us.. we are still toddlers.
Alright, I think enough horsing around, and let's talk about the topic for this day. Blogwalking~~. It is among one essential job for any blogger to increase the traffic of his blog. (If you visit 10 blogs, you probably gets 100 visitors. If you visit 100, then expect 1000 will come.. huhu) And for me, I just start to get a hang of it. And, I find some blog's accessories are really helping for most blogwalkers.
Shoutbox
Shoutbox or in Malay it's known as "
Kotak Jerit
". Hehe.. This is the place where any bloggers will introduce themselves. And it is the easiest and simplest way. (
compare
to commenting in the post. Shoutbox is faster
). It's really help for those who in a "blog-marathon" state (
Oh no!! another 100 blog to go~~
).
How to shout?? Should I demonstrate? Here the example~~
You are surfing around, and you find a blog name Tuan Tanah (Landlord). So, what you should do is shout, "Oii Tuan Tanah!!~~ blogwalking~~" Hehe.. Well, I knew you get a hang of it. (Make sure you give a right link at the shoutbox so other blogger can visit you in the future.)
Blogs Links
Blogs link is another useful feature. It can promote some of our interest blogs to the fellow visitor and blogwalkers.
Music box / MP3
It is really soothing for blogwalkers to enjoy nice background music in their visit. Nevertheless, it cans also annoying if they hate the music. So, choose wisely.
Ads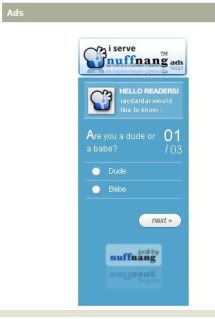 Ads are the most useful features, because it can generates income for us. So, in your visit, don't forget to click on the ads, just treat it as a "duit raya/angpau" for this blogger for their hard work on his blog. ($_$)
Attitude
Personally, I'm not the type fond to this tradition, "
I follow u, U follow I ok?
" Seriously. I only follow blog that I find it interesting. So, you don't have to force yourself to follow this blog. Become my follower sincerely and willingly.
Allright, that's it for today. Anything you wanna ask, feel free to do it. The royal portal for this month will start as usual.
Until next time~~~
Bye~~