Assalamualaikum and Peace be upon all of you.
Welcome to my blog.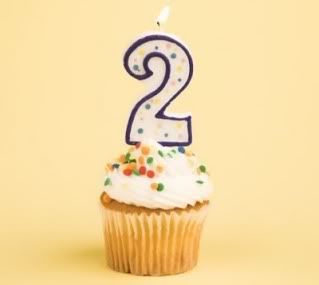 To all follower, visitor and blogwalker, thanks again for your visits in this blog. May you can find satisfaction over my little hard work here. Today, the blog is celebrating its second anniversary. And, I deeply express my gratitude to all of my visitors who always encourage me to keep writing. The royal portal will be resumed as usual. And, after received some suggestion of improvement from blog review Gnesop, I hereby make several changes of the blog layout, best suited with the Malay royal symbol.
Header
:
Yes, at the right most part, you see a royal headdress and royal tiara worn by Seri Paduka Baginda Yang di-Pertuan Agong and Seri Paduka Baginda Raja Permaisuri Agong of Malaysia, literally means, His and Her Conqueror Majesties the Supreme Ruler and Supreme Queen of Malaysia.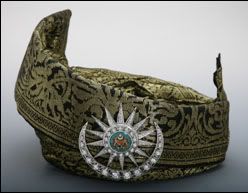 The Royal Headdress is called as Tengkolok Diraja worn by The Supreme Ruler. One of the traditional malay clothes. Just like samping, it's comes in many different styles. This one above is known as 'Dendam Tak Sudah' (Eternal Vengeance). The highest point is on the right side (the viewer left side) signifies the wearer is the reigning monarch.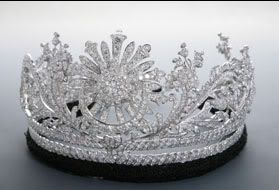 The royal Tiara is known as Gendik Tiraja. Specially design for the Supreme Queen of Malaysia
Royal Colour
:
Yellow is very synonym with Malay Royalty. Even though there is an exception for some state. Other than Yellow, White is also use to symbolize the Malay Monarch.
TOPICS IN RADIN'S BLOG
Here are some topics that I presented in this blog.
Blog
Here is the topic mainly from my personal feelings or announcement. Usually I will post twice a month. Recently, I have to keep it as minimum as possible to make room for the royal portal
Royal Portal
Here is the main theme for the blog. As you can see, the royal portal here specifically designs to covers the activities and ceremonies attend by the royal families. Anything related with the Malay Royal Family will belong in this category.
Governorate Portal
Federation of Malaysia is unique where there are state ruled by Monarch and not. For the state who not administered by a King, HQM Yang di-Pertuan Agong is their Head of State. The Supreme Ruler is represented by HE Yang diPertua Negeri or commonly refers to as Governor in English. We have 4 Governors who also a full member of Conference of Ruler, only unable to vote and stand as the Supreme Ruler.
South East Asia
There are 11 nations all together in SEA regions, and officially there are 11 leaders. Any inauguration or news about these specific leaders shall belong in this category.
Events
Let's just say it is a category reserves for special day and functions. Like, Independence Day, Federation Day, New Years and etc.
Miscellaneous
Anything that not belongs in previous categories shall belong here.
Pujangga Alam
Ah yes, the only category reserves for the beauties and magnificent places in our beloved Federation of Malaysia. The hidden treasures that sometimes overlooked by Malaysians.
Persona
Persona is a category to announce the most popular royals in each month. Takes nuffnang record as the main reference, the highest visits keyword shall be announces as the Persona for that month. But… I think I should adjust or modified the segment.. as the Persona of each month currently won by the same person, Tengku Muhammad Fa-iz Petra.
NEW BLOG
There are also recommendations forwarded to me to write my article in Malay. But, sorry.. The Radin's Blog has been an English blog since its foundation and I wanted it to stay that way. So, I have published a new blog in Bahasa Malaysia!! Click the link above or below to proceed…
That's it for now~~
Bye~~