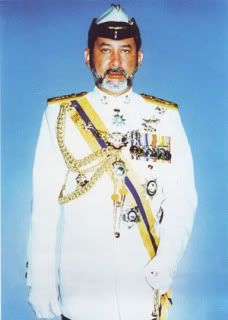 22nd November 2010 – Today is the 52nd Birthday Celebration of HRH Sultan of Johor, Sultan Ibrahim ibni almarhum Sultan Iskandar. For this year, several personal including the Sultan's mother, Cik Kalsom Abdullah, The Sultanah of Johor, Raja Zarith Sofia and the Crown Prince of Johor, Tunku Ismail Idris shall received the State Honorary Medal in conjunctions of the Sultan's birthday celebration.
Among the individual received the medal :-
The Sultan's Mother, Tuanku Puan Hajah Kalsom Abdullah (nee Josephine Ruby Trevorrow) shall be styled as Yang Amat Mulia Enche' Besar. (Her Highness Enche' Besar). She also received the Darjah Kerabat Pangkat Pertama (DK1)
The Sultan's Consort, Raja Zarith Sofia shall be styled as Duli Yang Maha Mulia (Her Royal Highness) with the title Tuanku.
The Crown Prince of Johor, Tunku Ismail Idris shall received the Pangkat Pertama Datuk Seri Setia Sultan Ismail (SSIJ)
As The Sultan of Johor, Sultan Ibrahim wanted his princes to learn and inherited the Johorean Protocol and Custom, thus, Tunku Abd Jalil is appointed as the Minister for the medal of Sultan Ismail Yang Amat Mulia Diberkati meanwhile Tunku Abd Rahman is appointed as the marshal for the medal.
Congratulations to the Sultan of Johor in conjunction of His Royal Highness 52nd Birthday Celebration. Wishing His Royal Highness may reign in peace and harmony, with fair and justice.
Daulat Tuanku.
Long Live The King.