Assalamualaikum and Peace be upon all of you
Welcome to my blog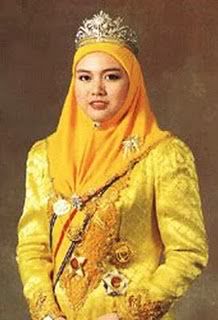 HRH Permaisuri Siti Aishah
Probably most of us recognize this sweet face. Yes, she is the former Raja Permaisuri Agong of Malaysia, HH Permaisuri Siti Aishah. With her sweet, beautiful faces and her grace attitude really suits her with the position of Queen. Her life as a Queen is just a short one, only seats on the throne from 1999 – 2001. Her husband, HM Sultan Salahuddin Abd Aziz Shah died in 2001. She lives a quite life since then.
Nevertheless, a quite life of such gentle queen is disturbed recently. Yes, just recently, in the month of November. It is my hobby as a blogger to blogwalking around the website until I found and read something that I found really disturbing. Yes, the blogger who was famous with his mystical television shows has spread not just a rumor, but also with pictures about his relation with the former Queen. It is not just disturbing, but his action has actually seen as deliberately wants to tarnish the image of the royal families, and also the former queen personally. Not only that, it is also has put the readers into the state of confusion. The case currently is widely known in the website, but I just can't put myself to share the link of such disgusting website in my blog. Sorry. Which one? Don't worry about it, you will know it when you see it.
What to do?
After I read it, I tried to contact one of my friends who have a close connection with the palace. And, he replied. The same as me, he was also shocked with the blogger uncivilized manner. After a series of discussion, we get a clear picture of what really happens in the background. It's all SLANDER.
The former Queen condition
One of the members of northern peninsular royal family who has a close relationship with the former Queen denied the confession made by the unruly blogger. And according to the source, the former queen suffered a deep depression and suffered an illness since the death of her husband, the late Sultan.
"DENGAN NAMA ALLAH YANG MAHA AGONG...INI SEMUA FITNAH,.....SEMENJAK KEMANGKATAN ALMARHUM TUANKU SULTAN...MANTAN PERMAISURI MENGHADAPI TEKANAN PERASAAN DAN MENGHIDAP SEJENIS PENYAKIT MISTERI YANG MEMBUATKAN BELIAU BERTINDAK LUAR KAWALAN SEPERTI BUKAN DIRINYA YANG SEBENAR.....SAYA AKAN PERTAHANKAN BELIAU KERANA ALLAH....K......ERANA SAYA TAHU KEBENARANNYA.....LAKNATULLAH UNCLE SEEKERS"
Thus, for any of my visitors, blogwalkers and followers who in the future probably surfing into that blog, it is a waste of time to believes all of his confession and attitude towards the former queen. All I can say is, he using dirty tricks to humiliating and degrading the former queen (Taking advantage from the former queen condition). I cannot find any way that this person can be forgiven.
Conclusion
No matter what will happen in the future, I have anything in my interest accept to see this unruly blogger to be sentenced and punished accordingly.