Assalamualaikum and Peace be upon all of you
Welcome to my blog.
To all muslim around the world, hereby I wishing all of you Happy Eidul Adha.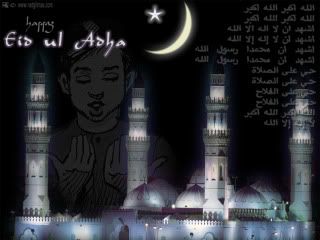 The Eid-Adha is the second celebration in Islam, and also the longest. The Eid-Adha takes place on 10, 11, 12 and 13 Zulhijjah. This is the day of eat and drink in Islam, where we are prohibited to fasting on these days. There will also be a sacrifices be made on these days, thus make it also known as the "Festival of Sacrifices", where those who are capable can actually sacrifices their best 4-legs livestock such as Camel, Cows, Lamb and Goat.
Happy Eidul-Adha everyone~~