Assalamualaikum and Peace be upon all of you.
Welcome to my blog.
Last month, Radin's Blog has ring to you comic from the homeland. Today, we will see the popular animation from Malaysia that currently popular here. That's right, Upin Dan Ipin (Upin and Ipin). My friends always said that, animation sometimes can influence our daily life, and it did. When I looked at my brothers and other kids here, there always mention and repeat the dialog in upin and ipin over and over again. Very cute!!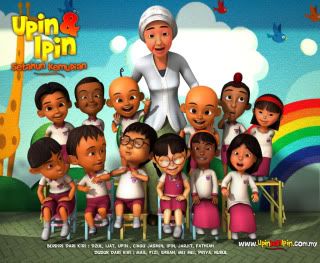 BACKGROUND
The animation is develop by a group of Malaysian young and talented animator who originally a graduate from Multimedia University (Malaysia) who graduate with Degree in Film and Animation, Nizam Abd Razak, Mohd. Safwan Ab Karim and Muhammad Usamah Zaid Yasin. The production name is 'Les Copaque'. The production is inspired by Hj. Burhanuddin Md. Radzi and his wife Pn. Hjh. Ainon Mohd. Ariff. He decided to fund the new company after they succeed to impress him with their award winning animation 'Misi Mustahak'.
ANIMATION
The upin dan ipin animation is consisting of three seasons.
Upin dan Ipin
Upin Dan Ipin : Setahun Kemudian
Upin dan Ipin : Dengan Kawan-kawan
The first and second season is the story of Upin dan Ipin first experience fasting in Ramadhan month. The third season is the story about the twin with their friends living their life.
The story also includes the first movie, 'Geng, The adventure Begin'.
AWARD
In the shout award,
MISI MUSTAHAK
This is their video when they are still study in MMU.