Assalamualaikum and Peace be upon all of you.
Welcome to my blog.
Today is a very important day for Malaysian Chinese Association (MCA) and also for Malaysia's politics. New political party is been formed today, Malaysian Makkal Sakti Party (MMSP).
MCA EGM
The tug-of-war crisis for two factions in MCA started with the controversial decision of the Party President, Ong Tee Keat when he dismisses the Deputy President, Chua Soi Lek. The supporter for these two politicians has made a tough time for MCA especially in this time of reduced support of the Chinese for MCA. Thus, the party has made the decision to hold the Extraordinary Grand Meeting (EGM) to discuss this matter whether to support Ong or Soi Lek.
And the delegates of the party have spoken. The delegates has voted a bill of no confidence to the President, and ousted the Deputy President from his seat.
With the decision from the delegates, the party now left without a Leader. The future of the Party will be discussed in the High Council of MCA meeting on 15 October 2009.
Malaysian Makkal Sakti Party (MSSP)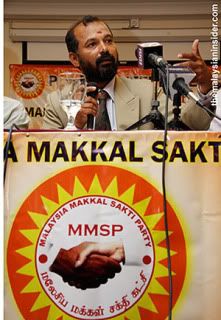 The new Party in Malaysia is formed. The inauguration is done by the Prime Minister Najib himself. As the Prime Minister for all Malaysian, he has the responsibilities to all. The new party is a racial party for Indian community.
With just 2 million populations, the Malaysian Indian is support by almost 8 parties. Among other are MIC, Gerakan, PPP, KIMMA, DAP, and MIUP. Which side should the Party belong? BN or PR? Up until now, it still an independent party.
Can this party receive support from the Indians? I still believe, no party in Malaysia can survive alone in Malaysia. (Especially racial based party)