Assalamualaikum and Peace be upon all of you.
Welcome to my blog.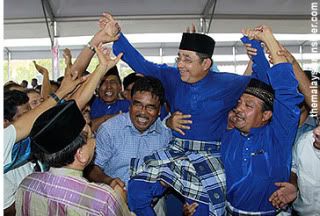 (picture from The Malaysian Insider)
After 7 days of campaign, 11 157 out of 13 664 voters of Bagan Pinang have completed their responsibilities voting for their new state assemblyman. The by-election also marked some unwanted event like provocations from both side of BN and PR and small riots is inevitable. But, the police have finally managed to get things in order. The result has been announced.
It is a landslide victory for BN candidate, Tan Sri Isa Samad who is also the former Menteri Besar of Negeri Sembilan. The winning also see an increasing majority of vote to the BN. Isa Samad (BN) manage to get 8013 votes while Zulkefley (PAS) only get 2578 votes. Isa manage to get a majority of 5435 votes.
WHAT THEY SAID?
Barisan Nasional (BN)
Tan Sri Isa Samad (
source
):-
"The results shows that the people have the full confidence in our two leaders." (Prime Minister Dato Seri Mohd Najib and his Deputy Tan Sri Muhyiddin Yassin)
Parti Islam Se-Malaysia (PAS)
Pas Vice-President, Mahfuz Omar (
source
):-
"UMNO has win the by-election but has lost in the fight against corruption"