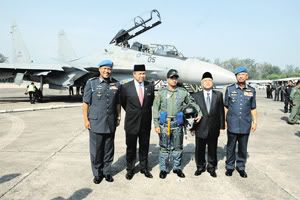 (picture from Utusan)
HM Tuanku Mizan Zainal Abidin during his visits at RMAF Base at Pulau Pinang.
HM Yang di-Pertuan Agong (The Supreme Ruler) of Malaysia, Tuanku Mizan Zainal Abidin participated in the flight of Sukhoi SU-30MKM in conjuction with His Majesty visits to the RMAF base. It is a historical visit as Tuanku Mizan Zainal Abidin is the first Head of State to fly in the Sukhoi Fighter which was specially brought from Gong Kedak Airbase, Terengganu. The fighter which carries the Yang di-Pertuan Agong depart around 10.40 am and it takes about 45 minutes for the plane to roamed the air space of Langkawi Island, Kedah and Penang at supersonic speeds.
The fighter is being driven by the Commanding Officer of 11 Squadron Colonel Mohd. Asghar Khan Gauriman Khan and accompany by another RMAF Fighter Class FA/18D Hornet. Air Force Commander, General Tan Sri Rodzali Daud said, His Majesty was excited with the experience of flying the Jet Fighter and joining the RMAF Supersonic Club.
The arrival of Yang di-Pertuan Agong to the Air Base was greeted by the Yang Dipertua Negeri (Governor) of Pulau Pinang, Tun Abdul Rahman Abbas; Minister of Defense, Datuk Seri Dr Ahmad Zahid Hamidi; Commander of Army, General Tan Sri Azizan Ariffin and Airforce Commander, General Tan Sri Rodzali Daud.