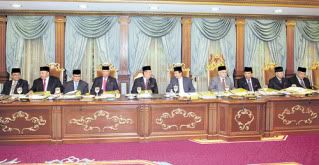 (picture from Utusan)
The 223rd Conference of Ruler's Meeting
The 223rd Meeting of Majlis Raja-Raja (Conference of Ruler) this week receives the Nation Defense and Security Briefing from the Chief of Army, General Tan Sri Azizan Ariffin and the Chief of Police, Tan Sri Ismail Omar respectively. The Keeper of the Ruler's Seal, Datuk Syed Danial Syed Ahmad in his statement said, the two days meeting of Majlis Raja-Raja (Conference of Ruler) among others discussing an Islamic matter and the appointment of Judges of the Appeals Court.
The Yang Dipertuan Besar of Negeri Sembilan, HRH Tuanku Muhriz ibni Almarhum Tuanku Munawir was the chairman of the 223rd Meeting. Also presence at the meeting was the Yang di-Pertuan Agong (The Supreme Ruler) of Malaysia, HM Tuanku Mizan Zainal Abidin accompanied by the Deputy Prime Minister, Tan Sri Muhyiddin Yassin. The two days meeting attended by all states Rulers and Governors accept for Terengganu, which was represented by Tengku Sri Bendahara Raja, Tengku Mustaffa Kamel ibni Almarhum Sultan Mahmud Al-Muktafi Billah Shah.
The Rulers and Governors were accompanied by respective Menteri Besar and Ketua Menteri accepts for the Chief Minister of Sarawak. The Yang Dipertua Negeri (Governor) of Sarawak was accompanied by the Chief Minister Representative, Datuk Amar Abang Johari bin Abang Openg.