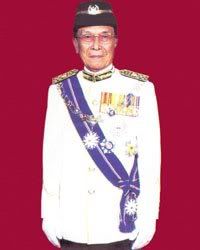 HE Yang Dipertua Negeri (Gavernor) of Sarawak, Tun Abang Muhammad Salahuddin and wife, Toh Puan Norkiah Abdullah presence at the Chinese New Year Celebration held at the open house of Parti Bersatu Rakyat Sarawak (SUPP). The Chinese New Year Celebration was celebrated with cheerful and lively despite the drizzly rain fall since two days ago. All invited guests are greeted with the Lion Dance performances. Almost 1000 peoples attend the open house. Also presence at the celebration is the newlywed Chief Minister of Sarawak, Tan Sri Abdul Taib Mahmud and his wife, Puan Sri Ragad Waleed Alkurdi.
The arrival of the Governor and the Chief Minister is greeted by the Deputy Chief Minister of Sarawak, Tan Sri Dr. George Chan Hong Nam. Others VIP guest includes Deputy of Chief Minister, Tan Sri Alfred Jabu Numpang; Minister of Energy, Water and Green Technology, Datuk Seri Peter Chin Fah Kui and Deputy Minister of Science, Technology and Innovation, Datuk Fadhillah Yusof.
Others include Minister at Sarawak's Chief Minister Office, Datin Fatimah Abdullah; Minister of Social Development and Urbanization, Datuk Seri William Mawan Ikom; Minister of Housing, Datuk Seri Abang Johari Tun Openg and Speaker of Sarawak's State Assembly, Datuk Seri Mohd Asfia Awang Nassar.