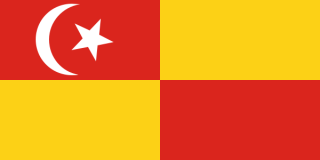 The State Secretary of Selangor, Datuk Mohammed Khusrin Munawi was called by the Menteri Besar (Chief Minister) of Selangor, Tan Sri Abdul Khalid Nordin. It is the first officials meeting between Khusrin and Khalid after a month crisis due to the SUK appointment. The meeting takes place around 5pm at the Menteri Besar's office at Bangunan SUK. According to the News Secretariat of the Menteri Besar, Khusrin receives a briefing regarding the job and responsibilities as the State Secretary.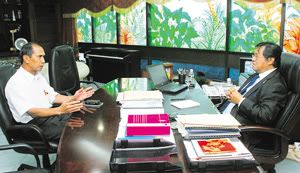 (picture from Utusan)
Khusrin and Khalid during a briefing in the MB office
Among others, the Menteri Besar directed Khusrin to focus more on State's Government-owned properties especially the problematic and abandon one. Khusrin also asked to provide reports from time to time for the state government about the latest information on Selangor's Government-owned properties. He is also asked to proceed with the state government continuing efforts to deal with sand smuggling problems which can intrude with the state revenues.
The crisis of the SUK's appointment has started since 27th December 2010, has finally starts to subside with the officials meeting between the MB and SUK. Nevertheless, it is still unknown when the new SUK shall take the Oath of Secrecy before the Menteri Besar.