Assalamualaikum and Peace be upon all of you..
Thanks again for viewing my blog.
Today is the nomination process for the Kuala Terengganu by-elections. This by-election is done after the previous holder of Kuala Terengganu Parliamentary seat died. After the nomination closed, it is confirmed that 3 candidate will participate in the elections.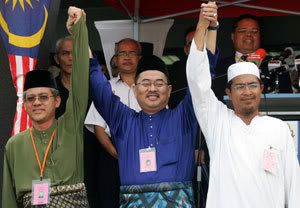 This three-corner fight is between Datuk Wan Ahmad Farid Wan Salleh (BN), Mohd Abdul Wahid Endut (PAS), and Azharuddin Mamat (Independent).
As an observer, I will not said anything about the qualification of each candidate. I only wished all the best for all of them. Whoever been choose to become the new MP, they should already realized that they are the representetives for Kuala Terengganu in the Parliament. And for the voters in Kuala Terengganu, please vote a candidate that can actually work for you. Do not vote for those who participate for individual reason.
It is undeniable that this by-elections are very important for both BN and PAS.
Barisan Nasional (National Front) :
This by-elections will become a refference point for the National Front. Already suffers a major setback in 2008 elections, and also lost in the Permatang Pauh by-elections, it is their second chance to proof that they still have a support from the Malaysians. If they lost in this elections, the National Front must take a serious actions to improve the weakness of the party.
Unlike the Permatang Pauh, the National Front wins in Kuala Terengganu 2008 general elections.
PAS (Pan-Malaysian Islamic Party) :
This by-election also play a major role for PAS. As the most senior oppositions party, win the elections play a significant value for PAS to have more voice in Parliament. In the 2008 elections, PAS successfully formed a government in Kelantan and Kedah.