Assalamualaikum and peace be upon all of you..
Thanks for viewing my blog.
A by-election has been held in the past Saturday, 17 January 2009. The Parliamentary seat of Kuala Terengganu officially belong to PAS.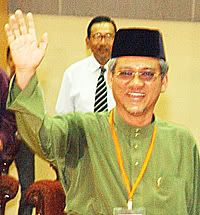 Pas candidate Mohd Abdul Wahid Endut garnered 32,883 votes while BN's Datuk Wan Ahmad Farid Wan Salleh obtained 30,252 votes. Independent candidate Azharuddin Mamat alias Adam received 193 votes and lost his deposit.There are 80,229 voters in the parliamentary constituency, including 1,043 postal voters
BN candidate, Wan Mohd Farid accepted the voters choice and said he would work harder in the constituency to change the minds of those who voted for PAS.
Abdul Wahid said that his victory was a result of good cooperation among Pakatan Rakyat members.
Election Campaign
Undeniable that the Islamic Law topic were the hottest topic during this by-election. The almost same scenario occur during the past Permatang Pauh by-election where the homosexual topic arise.
Each party has its own advantage. PAS has advantage in term of quality candidate. Even the party leaders having a hard times to choose the most worthy candidate to put into the election. While BN as a ruling party has advantage in term of finances and support.
Result
After a week campaign, the Kuala Terengganu voters has spoken. The Kuala Terengganu Parliamentary seat belongs to PAS.
As a wise man would say, the past is a history. What we should be worry about is the future. It is time for BN to come out with concrete solutions to prevent the fall of the coalitions.
To all Malaysians, welcome to a new era of Malaysia Democracy.
The era of 2 party.
Barisan Nasional and the Pakatan Rakyat.