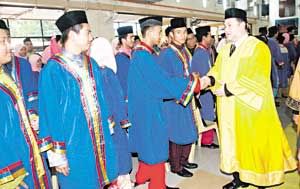 (picture from Utusan)
HRH Sultan Muhammad V of Kelantan during the graduation ceremony of SMSTMFP
HRH the Sultan of Kelantan, Sultan Muhammad V ibni Sultan Ismail Petra gave his consent to officiate the Graduation Ceremony of Sekolah Menengah Sains Tengku Muhammad Faris Petra, SMSTMFP. The Graduation Ceremony in 2011 witnesses the school gains in the rank of 12th best school performance of SPM 2010. HRH Sultan Muhammad V delivers the SPM certificate to 167 students of SPM 2010.