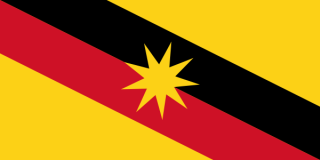 Barisan Nasional succeed in winning the 10th Sarawak State Election on 16th April 2011, thus renew the 5-year mandate from the people for the ruling government. BN succeed in winning 2/3 majority of the total contested seats in the election. In this year election, 71 seats are contested where BN wins 55 of them while the opposition parties gather 16 seats. DAP wins 12 seats, PKR with 3 and one independent candidate. PAS, SNAP and Parti Cinta Malaysia failed to win a seat in any constituency.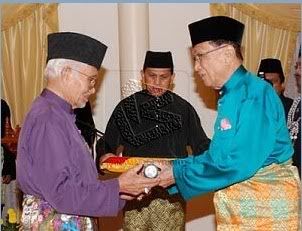 (picture from Bernama)
Taib Mahmud during the sworn in ceremony as the Chief Minister of Sarawak for the eight term before the Governor of Sarawak
After the announcement was made, the Chief Minister of Sarawak, Tan Sri Taib Mahmud sworn in as the Chief Minister of Sarawak for a new term before the Yang Dipertua Negeri (Governor) of Sarawak, HE Tun Abang Muhammad Salahuddin bin Abang Barieng. This is the eight term of Taib Mahmud since he became the Chief Minister of Sarawak in 1981. The Chief Minister previously has stated his willingness to step down as the Chief Minister and the 10th State Election will be his last.


The downfall of SUPP.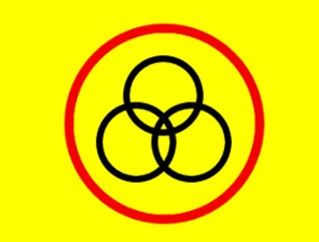 SUPP, among the oldest political party in Sarawak.
Even though BN still able to retain its 2/3 majority in the State Assembly, this year election has seen the downfall of Sarawak's oldest political party, Sarawak United People's Party (SUPP). The Chinese dominated party in Sarawak suffers the same fate with their MCA and Gerakan counterpart in the peninsular when the Chinese voters switch sides to DAP. SUPP in 2006 was the second largest party in the BN Sarawak's Government. Nevertheless, it has become the weakest party in new government after only capable of winning 6 seats from 19 constituency its contested in the election. The President of SUPP, Tan Sri Dr George Chan Hong Nam, who is also the Deputy Chief Minister of Sarawak was defeated in the election.
In the PR's side, even though failed to at least denied 2/3 BN majority in the Assembly, the success of DAP to securing 12 seats in the election is surprising when the party only won 6 seats in 2006 election. Based on the party's performance, the party Parliamentary Leader, Lim Kit Siang has openly announced that, even though PR have failed to captured Sarawak, the state is no longer the fixed-deposit of BN.