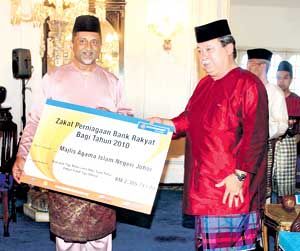 (picture from Utusan)
HRH Sultan Ibrahim of Johor receives the cheque replica in the ceremony held at the Grand Palace of Johor Bahru.
HRH the Sultan of Johor, Sultan Ibrahim ibni Almarhum Sultan Iskandar gave his consent to receive the zakat offering by the Bank Rakyat and Tenaga Nasional Bhd (TNB) to Majlis Agama Islam Negeri Johor, State of Johor Islamic Council (MAINJ). The ceremony was held at Istana Besar Johor Bahru. The MAINJ who is represented by HRH the Sultan of Johor receives the zakat offering about RM2,305,743 from the Bank Rakyat and RM2,222,733.87 from the TNB for the year 1431H or 2010M.
Also presences at the ceremony are the State Secretary of Johor, Datuk Abdul Rahim Ramli; the Mufti of Johor, Datuk Mohd Tahrir Samsudin and the Advisor of MAINJ, Datuk Noh Gadut.