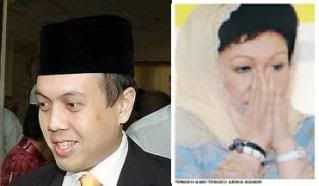 After the flight of Sultan of Kelantan are failed to take off to Singapore using the private jet, the royal entourage trying to get to Singapore by commercial plane. This is because the Sultan of Kelantan, Sultan Ismail Petra needs to get further treatment at Mount Elizabeth Hospital. When the royal entourage were about to leave the royal palace, they been blocked by the Police's Special Unit about 50 meter from the Kubang Kerian Palace gate. Later, The Sultan and the Queen were moves to get treatment at USM Hospital at Kubang Kerian. Meanwhile, Tengku Fakhry along with two doctors and the royal bodyguard were brought to the Kelantan's Police Headquarters for questioning.
HRH Queen of Kelantan, Tengku Anis expressed her sadness about the incident. At the HUSM, the Queen was prohibited to accompany the Sultan and was placed inside of the hospital office guarded by police officers. The Queen is allowed to visit The Sultan around 1 am.
According to the Manager of Kelantan Royal Family Household, Datuk Abd Halim Hamad, The Regent of Kelantan has ordered a tight security enforcement to protect the safety of the Sultan. The reason why Tengku Fakhry been detained by the police are to prevent the Prince to brought the Sultan abroad. It is the personal wish of The Regent so that his father gets the treatment from local Hospital. Later, the Sultan will be brought to Kuala Lumpur's Hospital for further treatment.