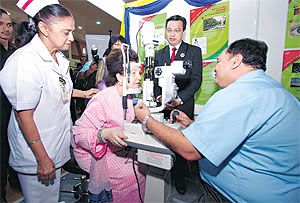 11th May 2010. HRH Raja Perempuan (Queen) of Perlis, Tuanku Fauziah binti Tengku Abdul Rashid has gives her consent to proclaim the opening program of Perlis Sihat Sejahtera. The theme for the program is Kenali Kanser (Introduction to Cancer). Also present at the function are Malaysian Ministry of Health, Datuk Seri Liow Tiong Lai and Perlis Menteri Besar, Datuk Seri Md. Isa Sabu. The program is held to celebrate the 67th birthday of the King of Perlis, Tuanku Syed Sirajuddin Putra Jamalullail this upcoming 17th May 2010.
In her speech, Her Royal Highness encourage the citizens of Perlis to practice a healthy lifestyle as preventive is easier than cure. In addition, the medical treatment cost also has increase in recent years. Her Royal Highness also encourages her people to keep balance of mental and spiritual health along with the physical fitness.
Her Royal Highness also proud with the increasing number of health program been organized in the state and also the cooperation showed between the Federal and State Government to organized such program.