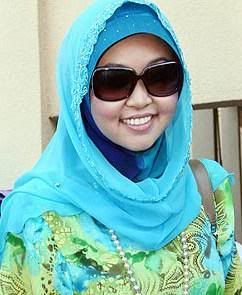 Elia Suhana was seen wiping away tears after the decision was made by the Sharia Court to reject a preliminary objection by the Sultan of Kelantan's second wife, Cik Puan Elia Suhana to strike off an application to confirm the talak tiga (irrevocable divorce) declaration. The filing of talak tiga divorce by Sultan of Kelantan against his second wife, Elia Suhana is made by Datin Nik Rorhana Wan Abdul Rahman.
Sharia Judge Abdullah Man said filing of the application by Datin Nik Rorhana on March 9 was in accordance with Islamic Law. The judge also said, it is inappropriate for the plaintiff to take the matter to court as being the State Head of Religion, the Sultan of Kelantan was protected by the state constitution.
During the court sitting, Datin Nik Rorhana also present in court. The sultan was alleged to have made the divorce declaration when he was treated at Mount Elizabeth Hospital, Singapore on Feb 12 in front of several witnesses including Nik Rorhana.