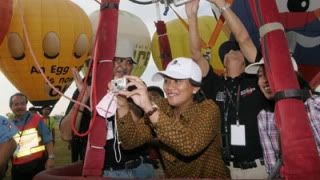 Tunku Putri Intan Shafinaz, Princess to the Sultan of Kedah taking a photograph during the festival
(Picture from Utusan)
29th May 2010 – From 28th May 2010, the state of Kedah hosted the 3 days Hot Air Balloon festival for the first time. Previously, the festival was held at Putrajaya. The Patron for The Royal Kedah International Hot Air Balloon Festival 2010, Tunku Putri Intan Shafinaz ibni Sultan Abd Halim stated that, 10 ballons from New Zealand, Japan, Belgium, Thailand, France and Malaysia participated in the event.
The public can feels the experience riding the balloons from 10 to 15 minutes by RM10 payment. There are also side-events such as paramotor demonstration, kite event, parachuting, bazaar and others. The event is sponsored by Rozad Creative, Kedah State Government and other NGOs.
The ballon rides is open for public from 6.30am – 9 am and 5.30pm – 7pm.