Assalamualaikum and Peace be upon all of you.
Welcome to my blog.
Radin's Blog today will present to you a special birthday today. Today is the birthday to HRH Sultan Sharafuddin Idris Shah, Sultan of Selangor. Today, the state of Selangor enjoy 1 day of public holiday for the celebration.
Sultan Sharafuddin Idris Shah of Selangor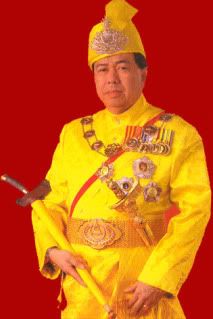 He is also known as 'The Inspiration Prince' during his young. He enjoys extreme sports and has once travels around the world in his ship, S Y Jugra. Born in 1945, he is the first son to Sultan Salahuddin Abdul Aziz Shah with his first wife, Raja Saidatul Ihsan. He is elevated as the Crown Prince of Selangor in 1970 and he is only 15 years old at that time. There are numerous time when he is proclaimed as the Regent of Selangor from 1972 to 1997. He is once again proclaimed as the Regent of Selangor when his father is installed as the King of Malaysia. After the death of his father in 2001, he is proclaimed as the Sultan of Selangor. His coronation ceremony takes place at the Alam Shah Palace in 2003.