Assalamualaikum and Peace be upon all of you.
Welcome to my blog.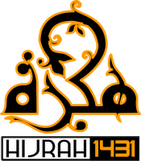 Happy New Year to all Muslim around the world, or should I say, Happy Maal Hijrah 1431H. The Islamic calendar, The Hijrah Calendar has reached its end yesterday and a brand new year today. The Hijrah calendar refers to the important events in the Islam History, The Hijrah. It is the events of the third migration in Islam, the biggest and the last.
The third migration is the migration of the Muslim alongside with Prophet Muhammad from Makkah to Madinah. Previously, there are other two migrations to Abyssinian Kingdom and Thaif respectively.
CALENDAR SYSTEM
The calendar consists of 12 month and each month consists of 29 / 30 days.
Muharram
Safar
Rabiul Awal
Rabiul Akhir
Jamadil Awwal
Jamadil Akhir
Rajab
Shaaban
Ramadhan
Syawwal
Zulkaedah
Zulhijjah
Unlike the Gregorian calendar where the day system started at 12.00 am, the Hijrah Calendar day started after the sunset. Thus, the day started from nightfall until the sunset.
RELIGIOUS FUNCTIONS
In the Islamic teachings, most events using the Hijrah calendar as its main references including the birthday. Thus, the muslim has two birthday, Gregorian and Hijrah calendar not to mention, differs age.
In the Gregorian age, I'm only 22 years old. (18 February 1987)
While my Hijrah age is already 23 years old. (19 Jamadil Akhir 1407)