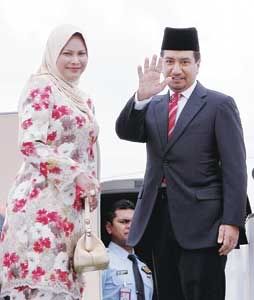 (Picture from Utusan)
The Yang di-Pertuan Agong (The Supreme Ruler) of Malaysia, HM Tuanku Mizan Zainal Abidin and Raja Permaisuri Agong (The Supreme Queen) of Malaysia, HM Tuanku Nur Zahirah depart to make the very first ever visit to Qatar. In conjunction of the 4-days visit to Qatar, Tuanku Mizan Zainal Abidin is expected to meet with the Amir of Qatar, Sheikh Hamad Khalifa al-Thani. The visit also includes attending the State Banquet and a visit to interesting places such as Islam Heritage Museum, Pearl Qatar and Qatar Foundation. The Malaysian Foreign Minister also makes a statement that His and Her Majesty shall meet the citizens of Malaysia that reside in Qatar.
Also accompany the Yang di-Pertuan Agong and Raja Permaisuri Agong is the Minister of Youth and Sports, Datuk Ahmad Shabery Cheek and others senior officials.