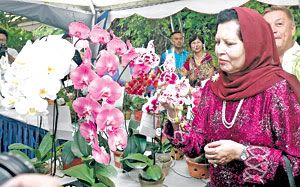 (picture from Utusan)
The wife of Govenor of Pulau Pinang, HE Toh Puan Majimor Shariff attends and proclaims the opening ceremony of Penang Flower Festival at Botanical Park. More than 10,000 vegetations include almost 1000 orchid, bonsai and adenium exhibited in the festival. The festival will run for a week until December 19. It is also exhibited others orchid species namely from Taiwan, Singapore and Thailand.
The annual festival has been organized since 1991 are open for public from 9 am until 7 pm every day and free entry. At the festival, visitors have the opportunity to see the art of flower arrangement from international and local florist.