The Persona segment currently moves into its fifth month. We have seen which royal personality that becomes Radin's Blog most popular personality by the most entered keyword. Thanks again to nuffnang.
The 2nd runner up belongs to the "
Crown Prince of Johor
". This is probably due to the unexpected news of his fake account in the social website facebook. Sometimes, I feel weird why this kind of person wants to disguise themselves as a royalty just to gain attention. The first runner up belongs to the "
Raja Muda of Kedah
". It is a surprising fact because the keyword has been in the top three for so long but still not the most popular keyword. And for the first time in Persona history, the keyword still retains its title for two consecutive months. The Persona August 2010 is also the Persona July 2010,
HH Cik Puan Julia Rais
HH CIK PUAN JULIA RAIS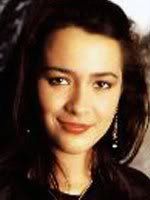 Most of her biodata has been put in the previous segment. Thus, there is not much to describe here. So, for this article, lets us see her acting during her time as a Malaysian actor before she married with the Crown Prince of Pahang.
MIRA EDORA