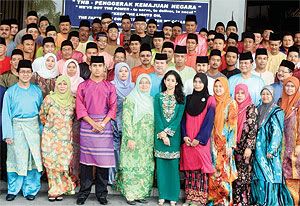 HRH The Sultan of Johor, Sultan Ibrahim ibni almarhum Sultan Iskandar gave his consent to proclaimed the opening ceremony of Tenaga Nasional Bhd Building at Jalan Sulaiman, Muar, Johor Darul Takzim. Among the building interesting features is its concept of 'City in the Park' which gives a new conducive environment to its staff so that they can improve their quality services to the costumer.
Sultan Ibrahim was accompanied by his Princes and Princess namely the Crown Prince of Johor, Tunku Ismail Idris; Tunku Abdul Rahman and Tunku Aminah.
Also present at the ceremony are the Chief Minister of Johor, Datuk Abdul Ghani Othman; Malaysian Deputy Minister of Energy, Water and Green Technology, Noriah Kasnon and Chairman of TNB, Tan Sri Leo Moggie.