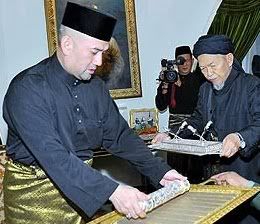 Tengku Muhammad Faris Petra is proclaimed as the 29th Sultan of Kelantan. The proclamation is made after Tengku Muhammad Faris Petra holds the title as Regent of Kelantan for more than a year replacing his ailling father, Sultan Ismail Petra. The proclamation is announced by Kelantanese Menteri Besar, Datuk Nik Abdul Aziz at the throne chamber of Istana Balai Besar, Kota Bharu, Kelantan on 13th September 2010. Among those who present at the ceremony is Tengku Bendahara of Kelantan, Tengku Muhammad Faiz Petra; Tengku Laksamana of Kelantan, Tengku Abdul Halim; and other invited guest.
The proclamation also been made after the constitution amendment by the Kelantanese State Assembly Seating and with the approval of Kelantanese Royal Succession Council (MPN). 15 out of 17 members of MPN have given their support for Tengku Muhammad Faris Petra as the new Sultan.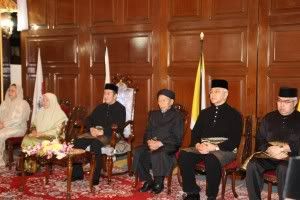 After the proclamation, the installation of the new Sultan will be done in 3 months from the proclamation date. May the proclamation of the new Sultan ended the crisis befall on the royal household.