The Aidil-Fitri celebration according to Islamic Practices is only for a day. But the festive season is still around the corner. Open House among the citizens and government is a must event every year. Not to forget, the royal families. Let see how the Royalty celebrates Aidil-Fitri with their fellow citizens.
HRH Sultan of Johor
The Sultan of Johor, HRH Sultan Ibrahim ibni Almarhum Sultan Iskandar for the first time making a new history for the Southern Sultanate to be the first Sultan of Johor to celebrate Aidil-Fitri outside of the Imperial Capital, Johor Bahru. Sultan Ibrahim celebrates and perform the Aidil-Fitri Solah at Masjid Sultan Ibrahim, Muar. The Aidil-Fitri celebration is celebrated at Istana Tanjung, Muar. This is the first step for Sultan Ibrahim for the future plan of the Sultan to celebrate the Aidil-Fitri at all districts in Johor.
The Royal Family of Johor has resides at Istana Tanjung since 30th August 2010. Also include in the royal family tradition is a visits to Makam Mahmudiah, Johor Bahru and Makam Temenggung at Teluk Belanga, Singapore.
HRH Sultan of Kedah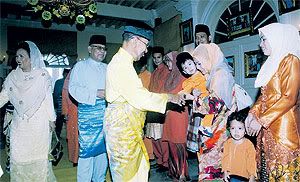 The Sultan of Kedah meanwhile gave his consent to attend the Aidil-Fitri Open House at the residence of Menteri Besar of Kedah, Datuk Seri Azizan Abd Razak. Previously, The Sultan and Sultanah of Kedah perform the Aidil-Fitri Solah at Masjid Zahir, Alor Setar.
HRH Sultan of Perak
The Sultan of Perak, HRH Sultan Azlan Shah gave his consent to attend the Aidil-Fitri celebration. Almost 5000 guest consist of various backgrounds. Members of the royal Family and state Exco also attend the celebration which is also the celebration of Malaysia Day.