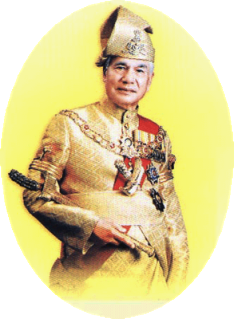 On past 19th April 2010 was the 82nd birthday of HRH Sultan of Perak, Sultan Azlan Shah ibni almarhum Sultan Yusuf. He is the 34th Sultan of Perak.
BIODATA
Sultan Azlan Shah was born as HH Raja Azlan Shah on 19th April 1928. He is a son to HRH Sultan Yusuf Izzudin Shah who at that time bearing the title as HRH Raja Bendahara of Perak with his wife, HRH Toh Puan Besar Hatijah . His father later inherited the throne on 31st March 1948 until his death on 4th January 1963. Raja Azlan Shah were called as "Lan" by his relatives and sometimes referred to as "Raja Lan" or "Ku Cik". Upon after his parents divorced, Raja Azlan Shah were raised as a commoner at Batu Gajah, Perak. He worked as a store keeper during the Japanese Invasion.
Since his childhood, he was determined that knowledge is the most important in life. A person can only improve his lifestyle with education. For him, even as a royal prince, he never dreamed to become a King. After his father is proclaimed as the Sultan of Perak, he gives support to Raja Azlan Shah to further his studies. On December 1950, he furthers his study at the University of Nottingham. 3 years later, he received his Degree in Law. On 1956, upon his returned from England, he became the first class Magistrate in Kuala Lumpur.
LINE OF SUCCESSION
Raja Azlan Shah first became in line to the throne of Perak starting from 1962.
Raja Kecil Bongsu - 19 Ogos 1962
Raja Kecil Tengah - 01 Februari 1963
Raja Kecil Sulong - 01 Januari 1978
Raja Kecil Besar - 01 Ogos 1978
Raja Muda - 01 Julai 1983
HRH Sultan of Perak - 03 Februai 1984 - present