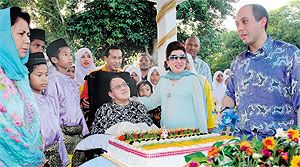 (picture from Utusan Harian)
HRH Sultan of Kelantan, Sultan Ismail Petra has given his consent yesterday to visit his subjects. It is His Majesty first official visit after almost a year. The Sultan has given his consent to see the people on wheelchair at Istana Mahkota accompany by his consort, HRH Queen Anis of Kelantan. He celebrated more than 100 orphans at the event and gives the zakat. The guests also take this priceless chance to communicate with his majesty.
"Praise to Allah, I'm fine. Thank you for coming" Answer his majesty when a village Imam come to him and asks about his condition. Even though his majesty still not fully recovers from his illness, His Majesty able to entertains the guest when he and the Queen of Kelantan singing various song including Kemesraan, Menghitung Hari and My Heart.
Also present at the functions were Tengku Temenggong Kelantan, HH Tengku Muhammad Fakhry, Tengku Abdul Aziz, former Chairman of MPN and the State Secretary, Datuk Wan Hashim Wan Daud.