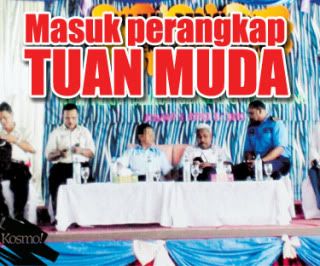 The local headlines since 11th April 2010 had always cover about 'Tuan Muda' (Literally means Young Master, Obocchama in Japanese). The Tuan Muda who disguised himself as an adopted son to the Crown Prince of Pahang, Tengku Abdullah Ibni Sultan Ahmad Shah. Nevertheless, he is an intelligent, gifted and well-behaved teenager who score 9A and 1B in his SPM. His disguise finally revealed during his so-called 'official visit' to the national services camp. One of the trainee at the camp actually knew his true identity and thus report it to the camp supervisor. Later, the young master were detained by the police.
The Crown Prince of Pahang, HH Tengku Abdullah stating that he is ready to forgive the teenager with a condition that he must seek an apology to him and a member of the royal family. When been asked whether the Crown Prince will adopted him to become the Prince's adopted son, the Crown Prince only reply, "That's another matter.."
The Crown Princess of Pahang, HH Tunku Azizah al-marhum Sultan Iskandar stated earliar that she does not know the identity of the boy. She revealed that had received a letter from and unknown boy stating that he is an adopted son to the Crown Princess. Not knowing who the sender is, the letter were just left aside.
The 'young master' who disguise himself as Tuan Muda Mohd Zulhanif Tengku Laksamana Abdullah has beg for forgiveness and he were adviced to not make any statement to the press to avoid any speculation.