(News from New Straits Times)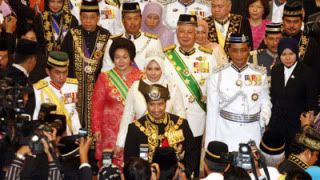 (picture from utusan)
KUALA LUMPUR: Yang di-Pertuan Agong Tuanku Mizan Zainal Abidin opened the third session of the 12th Parliament here on Monday.
Tuanku Mizan and Raja Permaisuri Agong Tuanku Nur Zahirah were greeted on arrival at the Parliament grounds by Prime Minister Datuk Seri Najib Tun Razak, his wife Datin Seri Rosmah Mansor, Deputy Prime Minister Tan Sri Muhyiddin Yassin and his wife Puan Sri Noorainee Abdul Rahman.
Tuanku Mizan then received the Royal Salute and the national anthem "Negaraku" was played by the Royal Malay Regiment central band from the Sungai Besi camp, headed by Major Zailani Mohd Okhtat. This was followed by the hoisting of the Royal Flag and a 13-shot gun salute.
The Yang di-Pertuan Agong then inspected a guard-of-honour mounted by four officers and 103 men of the First Battalion Royal Malay Regiment headed by Major Rozaini Mohd. After inspecting the guard-of-honour, the King returned to the royal stage and received the Royal Salute for the second time while the "Negaraku" was played again.
Their Majesties were then accompanied by Najib, Rosmah, Muhyiddin and Noorainee, into the Parliament House. Najib later presented the text of the royal address, to the King, for the opening of the first meeting of the third session of the 12th Parliament. The third session will be held from tomorrow to April 15. - BERNAMA