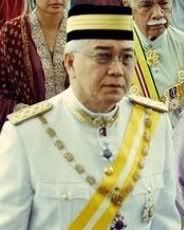 Tengku Abdul Halim
On 26th March 2010, Tengku Laksamana Kelantan, Tengku Abdul Halim were announced as the new Chairman of MPN. The appointment was made after the dismissal of Tengku Abdul Aziz Hamzah, Tengku Seri Utama Raja after his controvercial self-proclaimed announcement as the new Regent of Kelantan by decree of HRH Sultan of Kelantan, Sultan Ismail Petra. Included in his statement were also the removal of HH Tengku Muhammad Faris as the Regent of Kelantan.
Nevertheless, the statement were illegal as only the MPN has the power to remove the Regent of Kelantan by majority 2/3 vote.
31st March 2010, Tengku Ahmad Farizanudean Khairy, 47 years old officially sworn in as the new member of Kelantan's Majlis Perajaan Negeri, MPN. (literally known as Kelantan Royal Council). He who is also a pilot to Malaysia Airline System (MAS) is chosen as a Council Member after one of the seat was vacant. The seat is originally belong to Tengku Muhammad Fakhry, Tengku Temenggong of Kelantan who is also the younger brother to HH Tengku Muhammad Faris, Regent of Kelantan. On 16th September 2009, HH Tengku Muhammad Faris dismissed his brother from the Royal Council.