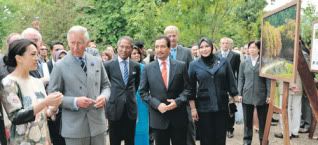 (picture from Utusan)
HM Tuanku Mizan Zainal Abidin and HM Tuanku Nur Zahirah at the Earth Awards Exhibition in London.

His Majesty the Yang di-Pertuan Agong (the Supreme Ruler) of Malaysia, Tuanku Mizan Zainal Abidin gave his consent to attend the Earth Awards Exhibition, among the most important aspect of Prince of Wales's START exhibition held at Clarence and Lancaster House Gardens. Accompanied His Majesty the Yang di-Pertuan Agong was Her Majesty the Raja Permaisuri Agong (the Supreme Queen) of Malaysia, Tuanku Nur Zahirah.
The arrivals of their Majesties around 5.45pm was greeted by His Royal Highness Prince Charles, the Prince of Wales. Their Majesties and Royal Highness later witnessed the exhibition featuring Forest Garden, Eco-Villa, Container Gallery and Eco-Cars. Eco-Villa is among the latest inventions ready to be marketed.
Also attended the exhibitions were Tourism Minister, Datuk Seri Dr Ng Yen Yen and Deputy Minister of Science, Technology and Innovation, Datuk Fadillah Yusof alongside others 200 invited guests.