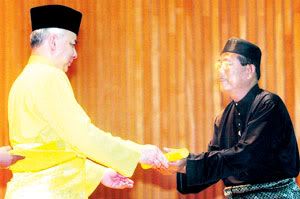 (picture from Utusan)
HRH Raja Nazrin Shah delivered the letter of appointment as Masjid Officer (Imam) to Mat Husin Hamzah in the ceremony held at Intim.

His Royal Highness the Raja Muda (Crown Prince) of Perak, Raja Nazrin Shah ibni Sultan Azlan Shah gave his consent to deliver the letter of appointments to 144 Masjid Officers at Institut Tadbir Islam Perak (Intim). The letter of appointment is for the officers term starting from 23rd May 2011 until 22nd May 2014. Also attending the ceremony were the Menteri Besar (Chief Minister) of Perak, Datuk Seri Dr. Zambry Abd Kadir; Religious Advisor to Menteri Besar, Datuk Mohd Najmuddin Alias; Director of Jabatan Agama Islam Perak (JAIPK), Mohd Yusop Husin and Police Chief of Perak, Datuk Mohd Shukri Dahlan.