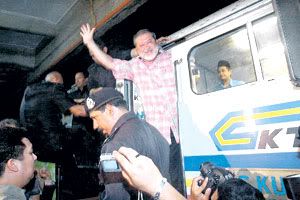 (picture from Utusan)
HRH Sultan Ibrahim of Johor waving the crowd before drive the last train from Tanjung Pagar.
His Royal Highness the Sultan of Johor, Sultan Ibrahim ibni Almarhum Sultan Iskandar gave his consent to drive the last KTM train to depart from KTM Station of Tanjung Pagar. The Tanjung Pagar Station located in Singapore is the last destination of Keretapi Tanah Melayu Bhd (KTMB) and has served for 79 years. At 11pm 30th July 2011, KTMB has waving eternal goodbye to Tanjung Pagar as the service of KTMB retreated to the mainland peninsular, leaving behind the last surviving legacy of Singapore which previously a part of Federation of Malaysia. The last train brought 500 passengers consist of KTM's Staff and media bid farewell to leave the land of Singapore. After an hour and a half journey, the last train to Tanjung Pagar, arrived at Johor Sentral Station at Johor Bahru.
Starting today, Woodlands Train Checkpoint is the last destination for KTMB to drop Singaporean passengers. The date of terminating the service of KTMB to Singapore still not yet determined. After it is finalized, Johor Sentral Station will be the last southern stop for KTM Berhad. The fate of Tanjung Pagar Station shall vest on the hand of Singaporean Government. Under the POA signed between Malaysia and Singapore in 1991, Singapore has promised to maintain it as a heritage.
Malaysian expressed their sadness over the lost.
"After Pulau Batu Putih, we have lost Tanjung Pagar."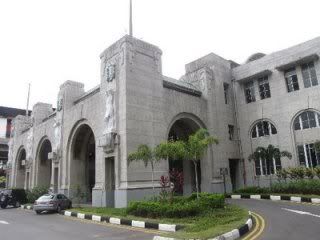 Tanjung Pagar Railway Station