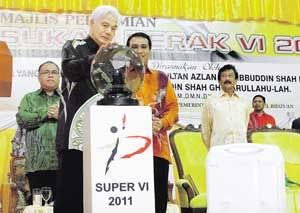 (picture from Utusan)
HRH Sultan of Perak proclaim the opening ceremony of Super VI. Also presence in the ceremony are Raja Di Hilir of Perak, Raja Jaafar (right)
HRH the Sultan of Perak, Sultan Azlan Shah gave his consent to proclaim the opening ceremony of the States of Perak largest sports events, the sixth edition of Sukan Perak, Super VI. The ceremony was held at Stadium Indera Mulia. 11 types of sports shall be contested in the event from 11th until 19th March.
In the sixth edition, each of districts in Perak shall hosted one type of the contested sport. Batang Padang district shall hosted the Silambam, Hilir Perak (Karate-do), Hulu Perak (Archery), Kerian (Badminton), Kampar (Sepak Takraw), Perak Tengah (Taekwondo), Kinta (Track Event), Kuala Kangsar (Basketball), Larut Matang and Selama (Silat) and Manjung (Hockey).