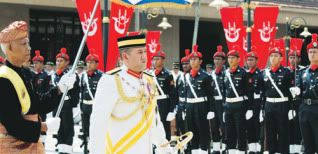 (picture from Utusan)
HRH Sultan of Kelantan, Sultan Muhammad V during the opening ceremony of Kelantan State Assembly Seating.
HRH the Sultan of Kelantan, Sultan Muhammad V ibni Sultan Ismail Petra gave his consent to proclaim the opening ceremony of 4th Session of 12th Kelantan State Assembly Seating at Kota Darul Naim. In his speech, Sultan Muhammad V express his opinion, suggestion and hope for the State Government to :-
Focused more on the development of low-cost housing for low-income citizens.
Increased the provision to develop more infrastructure project, especially highway network in the state.
In the ceremony, the Sultan has given his hope that the State of Kelantan has a potential and can compete with neighbouring countries especially in term of capital cost and the cost of living. Presence in the ceremony are the Menteri Besar (Chief Minister) of Kelantan, Datuk Seri Nik Abdul Aziz bin Nik Mat.