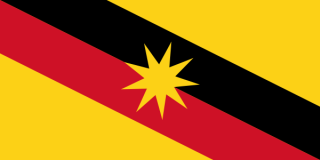 The Sarawak State Assembly officially dissolved after the State Assembly Speaker, Datuk Seri Mohamad Asfia Awang Nassar receives the proclamation notice signed by the Yang Dipertua Negeri (Governor) of Sarawak, HE Tun Abang Muhammad Salahuddin bin Abang Barieng. The Speaker, Mohamad Asfia said, the notice will be forward to the State Election Commission Chairman, Tan Sri Abdul Aziz Mohd Yusof. Nevertheless, the time and location of the notice handover still not yet confirmed.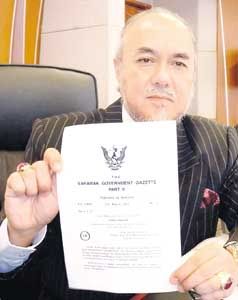 (picture from Utusan)
Datuk Seri Mohamad Asfia showing the notice of State Assembly dissolution signed by the Yang Dipertua Negeri
Last Saturday, the Chief Minister of Sarawak, Tan Sri Abdul Taib Mahmud in a press conference alongside with The Prime Minister Najib Razak and Deputy Prime Minister Muhyiddin Yassin had announced the dissolution day of Sarawak State Assembly Seating at Kuching International Airport.
Up to date, there still no announcement from the Election Commission regarding the nomination and voting date, nevertheless, many have predicted that it probably on 6th and 16th April 2011.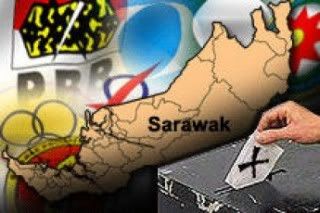 Who shall emerge victorious in the state election for this year? Shall BN resume the state administration for another 5 years term or will it succumb to PR administration? Will Taib Mahmud resume his post for another 5 years term or will he be retired after winning the election? Will BN wins with increasing majority or will PR be the one becoming stronger in the state?
Let's wait for this interesting and exciting story of 'Sarawak State Elections'.