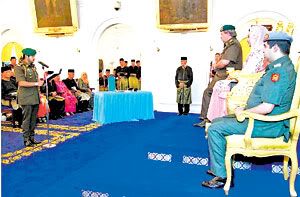 (picture from Utusan)
The Proclamation ceremony of HRH Tunku Ismail as the Regent of Johor
HRH the Tunku Mahkota (Crown Prince) of Johor, Tunku Ismail Ibni Sultan Ibrahim was been proclaimed as the Regent of Johor. The proclamation is to allowed the Crown Prince to exercise the State administration and official function during the absent of the Sultan of Johor in the state. The proclamation and appointment was held according to the Johor State Constitution 1895, at Istana Besar Johor Bahru.
Presences in the ceremony are the Menteri Besar (Chief Minister) of Johor, Datuk Abdul Ghani Othman, the members of Johor Royal Family and State's Executive Councilors.
HRH Tunku Ismail ibni Sultan Ibrahim was appointed as the Tunku Mahkota (Crown Prince) of Johor on 28th January 2010 after his father inherited the throne following the death of his grandfather, Almarhum Sultan Iskandar ibni Almarhum Sultan Ismail. HRH Tunku Ismail was the first son of Sultan Ibrahim and his consort, HRH Raja Zarith Sofia ibni Almarhum Sultan Idris.