Assalamualaikum and Peace be upon all of you..
Thanks for viewing my blog.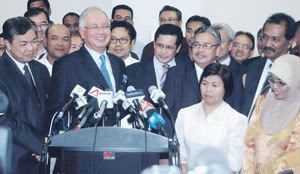 Deputy Prime Minister with 31 state assembly that support BN
This is the unique factor in Malaysians politics. The holder of the state assembly or parlimentary seats for each respective party have the possibility to 'change sides'. The same factor was the cause of the downfall of PR government in Perak after 3 of their seats holder resigned from PR. Even currently serve as Independence candidate, they have already gave their support to BN. And this is not the first time it is ever happens.
List of downfall state due to crossover assembly member;
1959 - downfall of Pas government in Terengganu. 2 party members switch sides to BN
1994 - downfall of PBS government in Sabah. Also to BN.
2009 - downfall of PR government in Perak. Also to BN.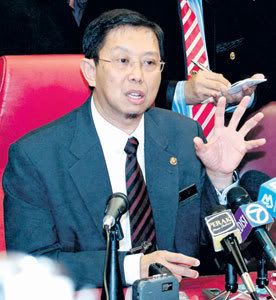 10th Menteri Besar of Perak, Dato Seri Ir Nizar Jamaludin
The downfall of PR in Perak has unofficially state as 'coup' by the PR. They also has send a partition so that the new elections be held. The Monarchy however did not consent to held a new elections.
With the current political system in Malaysia, I do think that elections can only be held in every 5 years no matter what the circumstances.
Chronicle of Perak Crisis
Here are the chronology of what happens in Perak;
ADUN Bota (BN), Datuk Nasarudin Hashim crossover to PR
Former Perak Chief Minister, Datuk Seri Tajol Rosli Ghazali resigned as Perak UMNO chief.
Deputy Prime Minister, Najib resumed the role as Perak UMNO Chief
3 PR ADUN are nowhere to be found. All communication attemp failed to locate them
Serious newsflash, 3 PR ADUN announce resignation as PR ADUN. All of them becomes independence ADUN.
Mohd Osman Mohd Jailu (PKR), Hee Yit Foong (DAP), Jamaluddin Mohd Radzi (PKR)
Najib announce that they has enough majority to form a state government. 28-3-28.
Datuk Nasarudin Hashim rejoined UMNO.
Najib ask consent from HM Sultan of Perak to form a new government of Perak
PR Chief Minister ask consent from HM Sultan of Perak to dissolve the state assembly and hold a new election
HM Sultan of Perak announce his consent to a new perak government and ask Ir Nizar to resign.
The rest is up to you to decide.