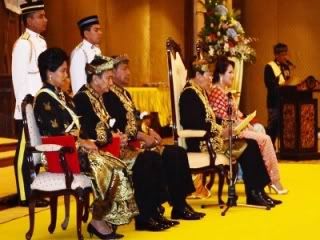 In conjunction of the designated 84th Birthday Celebration of His Majesty the Sultan of Kedah, Tuanku Abdul Halim Muadzam Shah, an investiture ceremony was held at Istana Anak Bukit, Kedah. Due to the absence of Tuanku Abdul Halim as the Yang di-Pertuan Agong of Malaysia, he was represented by the Chairman of Kedah Regency Council, His Royal Highness the Tunku Bendahara of Kedah, Tunku Annuar ibni Almarhum Sultan Badlishah.
Among those who received the State Honorary title, Medal and Order were the Advisor to the Prime Minister, Datuk Othman Abd Razak. He was conferred the Order of
Darjah Paduka Mahkota Kedah (D.P.M.K)
which carries the title Dato'.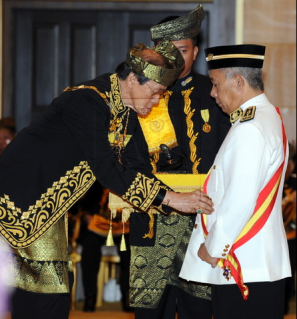 Also present in the ceremony were the members of the Regency Council, HRH the Tunku Temenggong of Kedah, Tunku Sallehuddin ibni Almarhum Sultan Badlishah; HRH the Tunku Laksamana of Kedah, Tunku Abdul Hamid Thani ibni Almarhum Sultan Badlishah and HRH the Tunku Panglima Besar of Kedah, Tunku Puteri Intan Shafinaz binti Tuanku Abdul Halim Muadzam Shah.
picture from :-
Bernama
Kedahlanie.com