In conjunction of the 64th Birthday Celebration of the Yang Dipertuan Besar of Negeri Sembilan, His Royal Highness Tuanku Muhriz ibni Almarhum Tuanku Munawir consent to receive salute from the Guard-of-Honour in a ceremony held at Padang Awam Seri Menanti, Kuala Pilah. The ceremony were organized by the State Secretary Office of the government of Negeri Sembilan. The Yang Dipertuan Besar (literally translated as 'He who is made king') then inspecting the Guard-of Honour mounted by 103 members of Malaysian Army from the 71st Royal Signals Regiment. The Guard-of -Honour was lead by Major Badrul Hisham Nasir Nordin.
Also accompanied the King were Her Royal Highness the Tengku Ampuan Besar (Queen Consort) of Negeri Sembilan, Tengku Aishah Rohani binti Tengku Mahmud, His Royal Highness the Tengku Ali Redhauddin and His Royal Highness Tengku Zain-al Abidin.
Also present in the ceremony is Menteri Besar (Chief Minister) of Negeri Sembilan, Dato Seri Mohamad Hasan and wife, Raja Datin Seri Salbiah binti Tuanku Nujumuddin. The four territorial Chieftains also present. They are Undang of Luak Sungai Ujong, Datuk Klana Petra Datuk Mubarak Dohak; Undang of Luak Rembau, Datuk Muhamad Sharip Othman; Undang of Luak Johol, Datuk Mohd. Jan Abdul Gani. Also present is His Serene Highness the Tunku Besar of Tampin, Tunku Syed Razman Tunku Syed Idrus Al Qadri.
The parade ended at 10.00 am in the morning and followed by a feast at Tuanku Laksamana Nasir Primary School located near the Padang Awam Seri Menanti.
Investiture Day
After the Parade, the celebration followed by the Investiture Day at Istana Besar Seri Menanti. For this year, 157 recipients were enlist to receive the Honorary title and award by the Yang Dipertuan Besar. Among who received the medal was the founder of As-Sofa Foundation, Muhammad Fuad Kamaluddin Al-Maliki who been conferred the
Darjah Setia Tuanku Muhriz Yang Amat Gemilang (DSTM)
which carries the title "Datuk".
In the afternoon, the cake cutting ceremony was held in the Banquet Hall along with luncheon for guests with the Royal Family.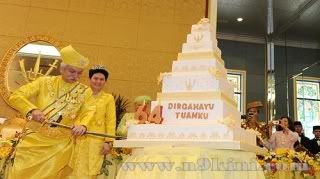 picture from :
N9kini.com
Bernama